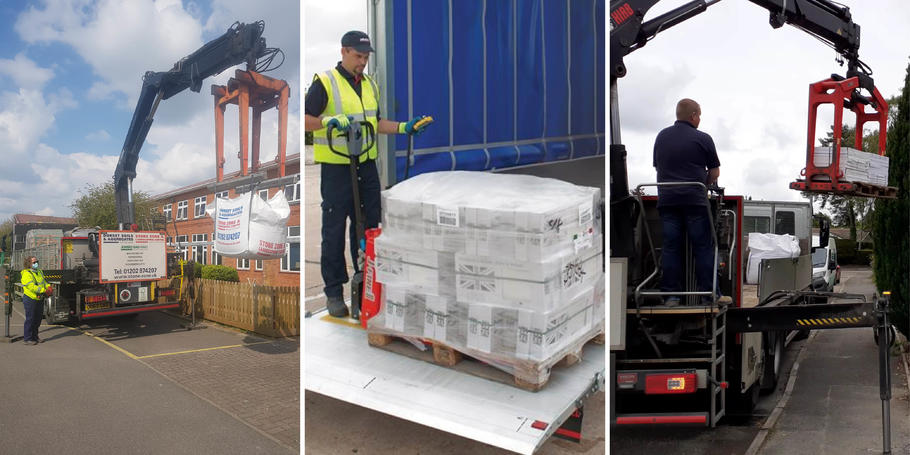 Next Day Delivery - Order before 1pm for next day delivery on all items! (Provided they are in stock - next day delivery charges may apply)
A Delivery Service Tailored to You
We have expertly-trained delivery drivers on-hand to make any delivery a breeze. Whether it's a small or large garden project, we do our best to accommodate your needs.
Due to the manoeuvrability of our lorries, we can deliver straight to your garden or over fences, provided there is sufficient access. With permission, we can also deliver if you're not there.
How Delivery Works
Our delivery lead time is within 5 working days Monday - Friday but can take up to 7 working days at present. There is an option to pay extra for a Saturday delivery or next day delivery. In some cases, deliveries can take place earlier than expected. If you require the delivery to take place on a certain day please make sure to leave the specific intructions in the 'Notes' section at the check-out, and we will try our best to accommodate you.
Once you have placed your order online, our customer service team will contact you via email, as soon as possible, to advise you of your delivery date.
We are unable to give specific time slots for deliveries, however, we can indicate whether it will be in the morning or afternoon. With your permission, we can also deliver when you're not there.
There is a comments box at the checkout page for any delivery instructions.
❗️ Please ensure you read and understand the below Terms & Conditions before you place your order.
Local Deliveries
We charge £18 per tonne, with the ability to add extra items at no extra cost if there is room on the pallet. Very small orders would be more cost-effective to be collected from one of our three depots.
Our local deliveries cover all areas in Dorset, including Wareham, Dorchester, Bournemouth, Poole, Christchurch, Ferndown, Wimborne, Ringwood and Blandford. We also cover some areas in Hampshire including Southampton, Winchester, Basingstoke and Eastleigh. Please see below for a full list of postcodes.
National Deliveries
For national delivery to postcodes outside of our local area, we charge different fees depending on where your postcode falls; most items will show the price including delivery. You can also pay an additional charge if you wish to have a Saturday or next day delivery.
These deliveries usually take 3-5 working days to arrive between 7 - 5pm. Wyvern Cargo is our national delivery provider which provide tail lift deliveries which will arrive on a pallet.
PLEASE NOTE: There is a surcharge for deliveries to the Channel Islands, Scotland and Ireland. You can request this charge by emailing sales@stone-zone.uk, otherwise you will be advised of this after the order has been placed.
PLEASE NOTE: If there are any issues and queries about your order, please make sure you notify us within 48 hours of receiving your items. It is imperative that you keep to this time frame.
❗️

Important Terms & Conditions

❗️
It is the customer's responsibility to ensure adequate access to the delivery address.
Customers must include any delivery instructions in the comments box at the checkout page. This includes access issues, whether you'll be there for delivery and any other notes for the driver.
The road must be wide enough for large lorries, roughly the same size as a dustbin lorry. Overhanging obstructions may impact delivery such as overhead cables and trees. The height needed for hiab delivery is 4 metres.
For delivery to areas in Dorset, we are able to use our small lorry for roads with tight access such as private or gravel roads. This will incur a surcharge of £30 + vat.
We operate a 'wasted delivery charge' for deliveries or muckaways that we are unable to complete due to insufficient access. This charge is £60 per order + vat, but can be up to £60 per pallet + vat for deliveries outside our local area.
Deliveries take place between 7am - 5pm. We cannot give delivery slots but we can phone you 1 hour before delivery if you request this in the comments box.
If you have any further questions don't hesitate to call 01202 874207, use our live chat or fill out a contact form.
Local Delivery Postcodes
| | | | |
| --- | --- | --- | --- |
| BH (all) | SP6 | SO21 | SO41 |
| DT1 | SO14 | SO22 | SO42 |
| DT11 | SO15 | SO23 | SO43 |
| DT2 | SO16 | SO25 | SO45 |
| DT3 | SO17 | SO30 | SO50 |
| DT4 | SO18 | SO31 | SO51 |
| DT5 | SO19 | SO40 | SO52 |
| | | | SO53 |