New 2023 Woodland Paving Range
New Addition to Our 2023 Porcelain Collection: Woodland Range
We are well into the new year and have already had a few new product launches, but we are not finished yet! We are proud to introduce you to our brand-new range of Porcelain Paving, the Woodland Range.
As the name suggests our Woodland Porcelain Paving range is inspired by natural wooden planks to create a unique and subtle range of Porcelain Paving that has all the visual aspects of nature but the benefits and ease of use of Porcelain Paving.
Our new Paving range is aesthetically pleasing and strong, long-lasting, and weather friendly, making them the perfect addition to a wide range of patios and gardens.
When you look at these planks you will notice wood-grain markings and patterns that make them hyper-realistic and convincing. These planks have been carefully printed with 8-12 different variations to mimic the disorganised patterns so figuring out they are not natural stone paving will not be an easy task. To make these paving slabs even more convincing is that they have been cut into the same size and shape as real wood planks, so you can achieve an authentic look.
Woodland Range for Your Garden
Whether you have a small or large garden, these paving tiles are perfect for you and we wanted to explain why.
These porcelain planks have been certified to have R11 Non-Skid Value, meaning that even when wet, they will not be very slippery. This makes these tiles are the perfect choice for a patio that is frequented by children who will not hurt themselves if it has rained recently; also, a great option for flooring around a swimming pool as there is no slipping risk. Therefore, you can seriously consider our Woodland Range if you have a family with small children.
There is nothing worse than installing brand-new paving and starts developing fungus around the borders. You do not have to be concerned about this because these planks have anti-fungal properties which ensure that your paving will remain looks fresh and new without any fungus sprouting from the borders or edges. This automatically makes maintaining these slabs very easy as well.
As with all our Porcelain Paving, these planks have also been rigorously tested and quality controlled. We have made sure that each individual plank has been vitrified and rectified in a kiln reaching 1400 degrees to ensure they are consistent and strong. We make sure that all our Porcelain Paving is developed to this standard so they make for a great long-term investment. Due to these processes, these slabs will retain their durability, colour, and quality for decades.
Finally, these planks are also frost resistant, which will come in handy as our temperature has taken a significant dip these past few months. Same as having a high non-skid value, the fact that they are frost resistant ensures that they will be safe for children and adults to walk on without slipping. This also makes these planks a good choice if you want to have a hard-landscaping area in your front garden as well.
The Woodland Range consists of 4 classic colours: Anthracite, Maple, Oak and Silver Birch.
Woodland Porcelain Paving Planks
Woodland Anthracite Porcelain Paving Planks
As you can see from the image above and can gather from the name, the Anthracite Planks are a lovely mid-grey tone. A real wintery shade. If you prefer a monochrome, deeper look for your garden, and want a garden with dark furniture and features, then Anthracite is the perfect choice for you.
Purchase HERE
Woodland Oak Porcelain Paving Planks
The Oak Paving planks are a classic light-brown wood colour that is the perfect choice for those who want a traditional, classic look for their garden. If you want a brighter option, that will suit white or beige garden furniture then the Oak is the one for you.
Purchase HERE
Woodland Maple Porcelain Paving Planks
For a slightly richer shade, with a hint of red (as per the name), the Maple will be a great option for your garden. We think the Maple is a unique shade as it will look lovely with both dark and light furniture and furthermore, it will make your garden look fantastic during the autumn season with yellow and gold leaves everywhere. As you can see from the image above.
Purchase HERE
Woodland Silver Birch Porcelain Paving Planks
Finally, we have the Silver Birch which is a wonderful light grey colour, perfect for those who want a contemporary, minimalist garden patio. Silver Birch will make for a lovely garden patio, but also poolside due to its understated colour.

Purchase HERE
Why Porcelain Paving?
We understand that choosing the correct paving for your garden is a big decision and a big investment. We have a few points to show you why Porcelain Paving may be the right choice for you.
1. Lots of variety: One of the best things about Porcelain Paving is how much control you have over the colours, patterns and designs. You will be spoilt for choice with Porcelain Paving, and because you know they are manufactured, there won't be any anomalies in the design.
2. Easy to maintain: No one wants to spend more time than they have to in order to maintain their garden and that's why Porcelain Paving is the best because they only need a sweep every now and again and jet-washing twice a year.
3. Durable: We understand that purchasing Porcelain Slabs can be a huge investment and therefore we want to reassure you that our slabs will retain their quality and strength for many decades, leaving you without any worry about replacing them.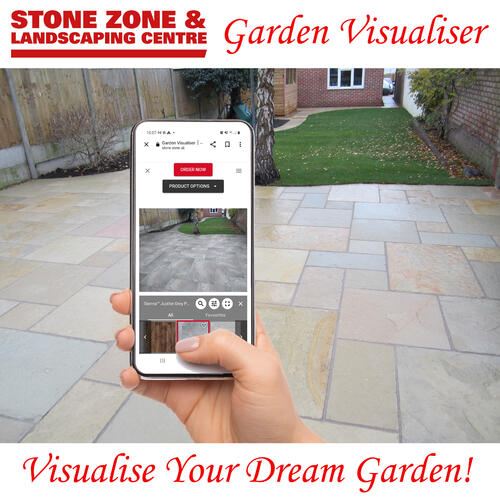 Visualise our Porcelain Paving in Your Garden
Have you tried our brand new Garden Visualiser? It's the perfect tool for garden ideas, whether you're looking at installing a new garden patio or garden deck.
This tool is free and easy to use, simply click on the link below, upload a photo of your garden (or use one of our pe-set gardens) and flick through our many different Paving, Decking and Decorative Stone ranges.